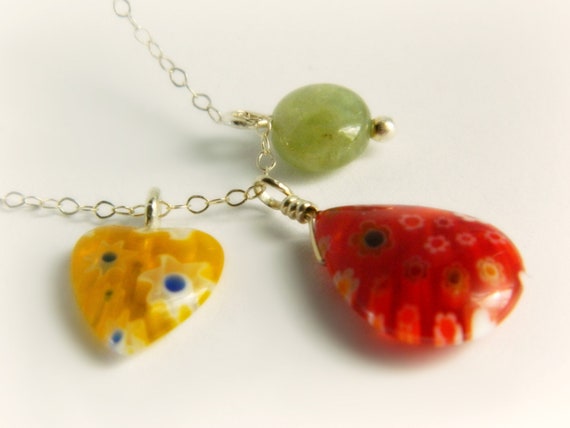 28.00 USD
A fun sterling silver necklace with three delightful charms in bright citrus colors. The largest is a pear shaped millefiori glass bead in a redish orange, next is a heart shaped Millefiori in lemon yellow and a small coin shape light lime green colored semi-precious aquamarine stone. Each charm is attached with fine silver wire and hangs on a sterling silver chain with a hand forged end loop. The third and fourth pictures above show other colors and shapes in the same design.

Millefiori is an Italian word which means a thousand flowers, a close look at the transparent glass beads and you can see all the tiny little flower shapes.


==============================================


Materials : millefiori glass beads, Aquamarine stone, sterling silver, fine silver

Color : deep tangerine, lemon yellow, light lime green

Size : length 19 1/4" or 49 cm


==============================================

• more millefiori necklace designs :

Ocean Blue - https://www.etsy.com/listing/111377924/millefiore-charm-necklace-sterling
Mezza Luna - https://www.etsy.com/listing/111639358/millefiore-sterling-silver-necklace
Tangerine - https://www.etsy.com/listing/111643952/millefiore-sterling-silver-charm


• millefiore earrings : https://www.etsy.com/listing/111380234/millefiore-sterling-silver-earrings



♥ Your sterling silver millefiore necklace will arrive beautifully wrapped.


★ sterling silver - contains 92.5% silver
fine silver - 99.9% silver


• to see my eco-friendly necklace designs click here : http://www.etsy.com/shop/TaniaCaveneciaTorres?section_id=6148729
______________________________________

TaniaCaveneciaTorres.etsy.com




◘ shipping -

All items are shipped from California by United States Postal Service First Class which takes approximately 3-5 business days for domestic mail and 10-21 business days for international.
International mail can be subject to unexpected delays depending on your location. Please be aware of your countries restrictions, duty taxes or custom fees.

If you would prefer faster Priority shipping please contact me before making your purchase so I can adjust the shipping rate for your item before going through check out.



★ visit my new shop for vintage sterling silver jewelry ~

PuraPlata.etsy.com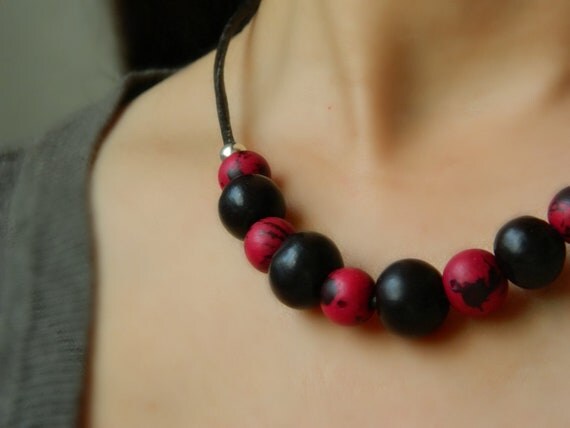 39.00 USD
Handcrafted leather necklace with Amazon seeds from the Amazon Rain Forest of South America. A grouping of Bombona Seeds from Ecuador in rich dark chocolate brown and Acai seeds dyed a deep samba red, strung on to a brown black leather cord with large sterling silver beads on each end. The seeds have a beautiful natural sheen to them and smooth wonderful organic shapes. I finished the leather cord with sterling silver ends and a hand forged hook closure.

A sterling silver hammered chain gives the necklace an adjustable length. The finishing touch is a little semi-precious brown Jasper bead. The Amazon seeds are from South America and are natural materials, no two are a like. Their organic shape, lines, veins and niches are what makes them completely unique.

I also have this style necklace in lavender & black as can be seen in the last photo : https://www.etsy.com/listing/103568194/amazon-seed-necklace-lavender-bombona?ref=shop_home_active_14



==============================================


Materials : Bombona seeds, Acai seeds, leather, Sterling silver, Jasper

Color : Samba red, rich chocolate brown, black brown

Size : adjustable length of 16 1/2" to 18 1/4" or 42 cm to 46 cm


==============================================


♥ Your elegant Amazon seed necklace will arrive elegantly wrapped.



○ Amazon seeds are not only beautiful natural materials but are also eco-friendly. A sustainable and renewable resource that provides an alternative to rain forest destruction and gives additional economic resources to the native people of the rain forests of South America.
______________________________
TaniaCaveneciaTorres.etsy.com



◘ shipping -

All items are shipped from California by United States Postal Service First Class which takes approximately 3-5 business days for domestic mail and 10-21 business days for international. International mail can be subject to unexpected delays. Please be aware of your countries restrictions, duty taxes or custom fees.

If you would prefer faster Priority shipping please contact me before making your purchase so I can adjust the shipping rate for your item before going through check out.



★ visit my new shop for vintage sterling silver jewelry ~

PuraPlata.etsy.com



.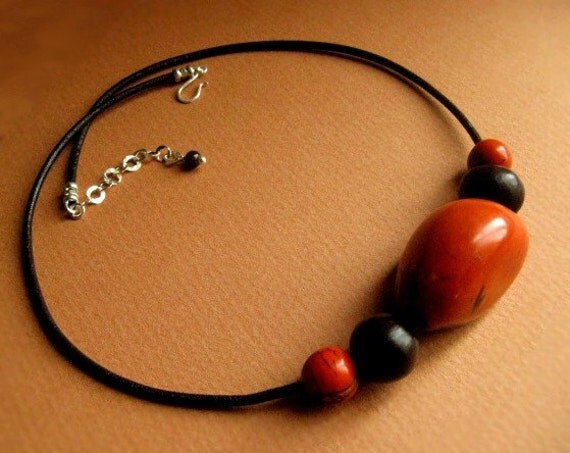 38.00 USD
A Tagua and Acai necklace in a simple modern style to showcase the eco-friendly natural elements. The center piece is a large Tagua nut in a spice orange color. Paired with two dark cacao brown Bonbona seeds and two smaller Acai seeds in the same orange color as the Tagua nut. Complementing the design is a dark brown leather cord with sterling silver ends.

The Tagua nut measures approximately 34mm in width. A textured sterling silver chain gives the necklace an adjustable length of . A tiny semi-precious Jasper stone at the end of the sterling silver chain is the perfect finishing touch.


==============================================


Materials : Tagua nut, Acai & Bombona seeds, Sterling silver, leather cord

Color : Orange spice, Cacao brown

Size : adjustable length of 17 1/4" to 18 1/2 or 43.5 cm to 47 cm


==============================================


Acai seeds and Tagua nuts are not only beautiful natural materials but are also eco-friendly. Acai seeds are the byproduct of harvesting the Acai fruit, instead of simply discarding the seed it is repurposed into beautiful jewelry. The Tagua Nut like the Acai seed is a sustainable and renewable resource that provides an alternative to rain forest destruction and gives additional economic resources to the native people of the rain forests of South America.

_______________________________________
TaniaCavenecia.etsy.com



◘ shipping -

All items are shipped from California by United States Postal Service First Class which takes approximately 3-5 business days for domestic mail and 10-21 business days for international depending on your location. International mail can be subject to unexpected delays. Please be aware of your countries restrictions, duty taxes or custom fees.

If you would prefer faster Priority shipping please contact me before making your purchase so I can adjust the shipping rate for your item before going through check out.



★ visit my new shop for vintage sterling silver jewelry ~

PuraPlata.etsy.com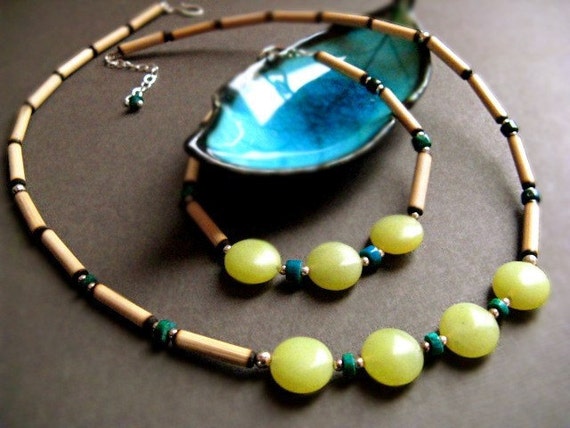 14.00 USD
This colorful bracelet is inspired by the Amazon Rain Forest of Peru. Made with Peruvian semi-precious Turquoise and vibrant yellow green Serpentine stones. These semi-precious stones are complemented by Bambu with Sterling silver beads and clasp. Bambu, from Peru, are the narrow wood Bamboo like tubes that are burned on each end. These are very popular in Peruvian
jewelry design from the Amazon.

The bracelet has a Sterling Silver clasp and measures 7 1/8" in length. This listing is for the bracelet only, the matching earrings and necklace are available in separate listings. If you would like to purchase the entire set please contact me for a discounted price.




♥ Your Amazon bracelet will arrive beautifully wrapped.
__________________________________
TaniaCaveneciaTorres.etsy.com



◘ shipping -

All items are shipped from California by United States Postal Service First Class which takes approximately 3-7 business days for domestic mail and 10- 21 business days for international depending on your location. Please be aware of your countries restrictions, duty taxes or custom fees.

If you would prefer faster Priority shipping please contact me before making your purchase so I can adjust the shipping rate for your item before going through check out.




★ visit my new shop for vintage sterling silver jewelry ~

PuraPlata.etsy.com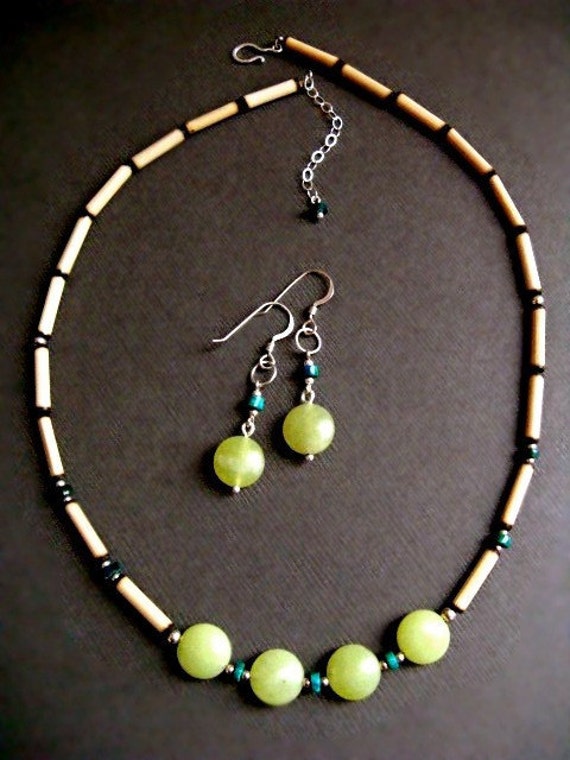 12.00 USD
Colorful Sterling Silver earrings inspired by the Amazon Rain Forest of Peru. Made with Peruvian semi-precious Turquoise and vibrant yellow green Serpentine stones. These colors are great for summer! Measuring just under 1 3/4" or 45mm, they will dangle very nicely from your ears.

This listing is for the earrings only, the matching necklace is a separate listing : http://www.etsy.com/listing/46479020/amazon-necklace-turquoise-serpentine

The matching bracelet is also a separate listing;
http://www.etsy.com/listing/46673728/amazon-bracelet-turquoise-serpentine

If you wish to purchase the entire set please contact me to receive a discounted price.



♥ Your Amazon earrings will arrive beautifully wrapped.
__________________________________
TaniaCaveneciaTorres.etsy.com



◘ shipping -

All items are shipped from California by United States Postal Service First Class which takes approximately 3-7 business days for domestic mail and 10- 21 business days for international depending on your location. Please be aware of your countries restrictions, duty taxes or custom fees.

If you would prefer faster Priority shipping please contact me before making your purchase so I can adjust the shipping rate for your item before going through check out.




★ visit my new shop for vintage sterling silver jewelry ~

PuraPlata.etsy.com